St. Joseph's Lifecare Centre Brantford returns to Outbreak-free Protocols

Published on Tuesday,27 October, 2020
St. Joseph's Lifecare Centre Brantford returns to Outbreak-free Protocols on Oct 27, 2020.
Click here
for details.
Oct 23, 2020: PRESS RELEASE - COVID-19

Published on Friday,23 October, 2020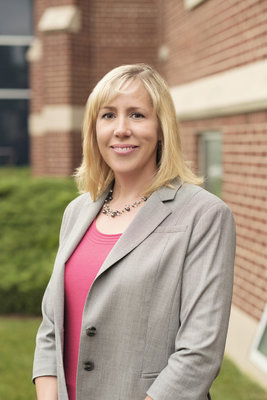 Julie Powell to lead St. Joseph's Lifecare Foundation as new President & CEO

Published on Thursday, 4 June, 2020
[BRANTFORD, ON] - The Board of Directors of St. Joseph's Lifecare Foundation and St. Joseph's Lifecare Centre Brantford are pleased to announce the appointment of Julie Powell as President and CEO of St. Joseph's Lifecare Foundation, effective June 8, 2020.
"I am extremely pleased and excited to welcome Julie to our Brantford campus," says David Wormald, President of St. Joseph's Lifecare Centre Brantford and St. Joseph's Health Centre Guelph.
"Julie has an impressive track record of performance excellence and I know she will make significant contributions towards realizing the strategic goals of both the Hospice and Lifecare Centre."
Julie brings to the position over 23 years of non-profit and fundraising leadership. She has worked within the St. Joseph's Health System for the past three years as Director of Leadership Giving for St. Mary's General Hospital Foundation, Kitchener, with a focus on leading major gifts, planned giving and sponsorship programs for the organization.
Prior to her role at St. Mary's, Julie was Director of Development at Norfolk General Hospital Foundation in Simcoe, where she led the Foundation team to raise $1.5 million annually for new equipment needs at the hospital. Concurrent with the annual giving campaign and in partnership with volunteers, Julie spearheaded a $13 million capital campaign to renovate the hospital.
Previously Julie was the Area Manager for the Heart & Stroke Foundation, supporting offices in Brantford, Hamilton, Brampton, Kitchener, Guelph and Niagara in fundraising, health promotion and advocacy.
Julie has been a Rotarian for seven years and locally has volunteered with the Heart & Stroke Foundation for nine years. She has lived in Brantford for 20 years and is very passionate about working in and contributing to the community she calls home.
Incoming chair Steve Portelli stated, "The Board conducted a detailed, comprehensive search and of approximately 60 applicants, at least 10 were strong, viable candidates. Of those, Julie soon emerged as the ideal candidate for the position, meeting the benchmarks the Board had established for each level of the interview process. It was clear she was the right fit for us."
Julie assumes the role on June 8, replacing outgoing President and CEO Olga Consorti, who is retiring in her 30th year with St. Joseph's Lifecare Foundation.
"The Board is tremendously pleased and thankful to have benefitted from Olga's outstanding fundraising skills, and especially for her vital role in the building of the initial Stedman Hospice in 2004 and the new Hospice, Hankinson House, in 2014. Olga also played an instrumental role in the redevelopment of the former St Joseph's Hospital to create St. Joseph's Lifecare Centre," says Karen Robb, current Chair of the Foundation.
"We wish Olga the very best in her future endeavours," says Robb.
Unfortunately, due to the COVID 19 pandemic, a planned retirement event for Olga Consorti has been postponed and an event to welcome Julie Powell will take place once face-to-face group meeting restrictions are lifted.
St. Joseph's Lifecare Foundation is the official fundraising organization for both Stedman Community Hospice, a 10-bed hospice and community outreach centre, and St. Joseph's Lifecare Centre, a 205-bed long term care facility, which together form St. Joseph's campus of care in Brantford, part of the St. Joseph's Health System.
For more information, please contact:
Nancy Billard
Director of Development & Communications
St. Joseph's Lifecare Foundation
519-751-7096, Ext 2476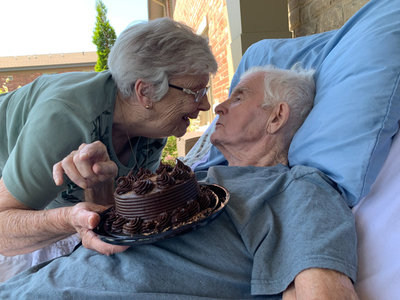 A Widow's Story: Making the Journey from Hospice Volunteer to Consumer

Published on Tuesday,21 April, 2020
Having spent 25 years in the learning environment of the York Region Public School Board, Marion (Marnie) Hyett always embraced the opportunity to learn something new. Now long retired from her career as a school secretary, she initially turned down the invitation from Stedman Community Hospice to participate in the Widow to Widow program after her husband Jim passed away there.

"I didn't think I needed it," she shared. "I'm so glad I changed my mind."
There was no question for Marnie as to where Jim should spend his final days. As a volunteer at Stedman Community Hospice for the past six years, she recognized that she alone could not provide the level of care equal to that of the Hospice.

The Widow to Widow program, made possible through donor support, is a 10-week structured group program, where women can share their grief experience in a judgment-free environment, and reflect on how grief has affected various aspects of their lives. It helps dispel the misconceptions of loss and helps women recognize grief avoidance. It also helps women establish a new self-identity and to move on in their lives without their partner.
It provided Marnie with a new social outlet with women who were living a similar experience and through 10 weeks of grief support, many friendships were formed.

Jim's decline was rapid. He was diagnosed with colon cancer in early May of 2019. A week later he made an emergency trip to Brantford General Hospital where he soon underwent surgery. Shortly after, his doctor determined the cancer had progressed quickly and nothing more could be done but to make him comfortable.
Jim passed away in Hospice on June 9th, the day after their 62nd wedding anniversary.

"He hadn't ever made a big deal about anniversaries," says Marnie, "but this time, in the days leading up to it, he had mentioned it a number of times, to the point where the nurses and personal support workers said to me that they probably should get busy and do something.

"The staff and Marnie surprised Jim with a cake. He was awake and alert long enough to know they were celebrating and softly said to Marnie "Our anniversary."
"He knew," says Marnie, smiling.
Later that night, one minute after midnight, Jim passed away peacefully with his wife by his side. Jim had a good life. The couple had raised two wonderful sons together, and were blessed with five granddaughters.
A few weeks later, when Marnie returned to her Hospice volunteer duties, Camillia Galezowski, the Hospice's Supportive Care Coordinator and facilitator of the Widow to Widow program spoke with Marnie about the program and offered an opportunity for her to participate.

"I thought I had a handle on things," says Marnie, "but I learned a lot."
"I learned there was a difference in grieving and mourning. The program allowed me to share some of my feelings openly with a group that was supportive and totally understanding of my feelings," she shared.

All of us now get together once a month for dinner," says Marnie. "It's wonderful!"
The Widow to Widow program is one of a number of cost-free grief support programs made possible through donations from the community. The Hospice offers a similar program for men, as well as one-on-one support sessions for adults. A separate support program exists for children which includes one-on-one sessions as well as an annual day camp and Christmas activity program.
The Hospice also offers a Day Wellness program for individuals who have been diagnosed with a life-altering illness. Participants have the opportunity to engage with others who are learning to manage a new reality.
"I'm so grateful to the donors for making the Widow to Widow program possible, for making this building possible," says Marnie.

"The people here are like family to me. It really is a wonderful place; we are so lucky to have it in our community."
To make a donation in support of Grief & Bereavement programs at Stedman Community Hospice, please call 519-751-7096, ext 2475 or give online at www.sjlc.ca.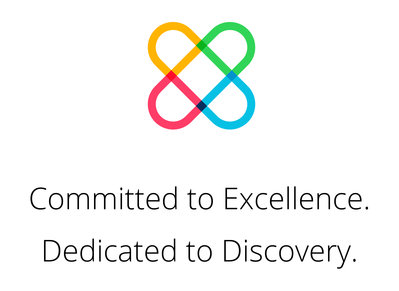 St. Joseph's Lifecare Centre introduces Strategic Plan

Published on Monday, 3 February, 2020
St. Joseph's Lifecare Centre Brantford (SJLCB) is excited to present their new strategic plan.
This plan maps out the direction SJLCB will take over the next three years and beyond as we build on the quality, compassionate care we have always delivered. This is a bold strategic plan that reflects the many voices that have informed the planning process. These voices include employees and physicians, clients and their families, healthcare and community partners, our Foundation and donors, and our broader community.
The plan is aligned under four clear directions:
Through these directions, we will provide an integrated care system with our Brantford Brant partners to improve health outcomes in our community and create an inspired, motivated, and integrated community of care that will ultimately make a positive difference in the lives of those we serve.
Over the next few weeks, more information will be provided about the strategic initiatives associated with each pillar.
We are Lifecare: This is our promise and our challenge to each other - as a provider of long-term care, hospice and palliative care - we will work together to meet the care needs of our community to exceed their expectations.
Positions available

Published on Wednesday, 8 April, 2020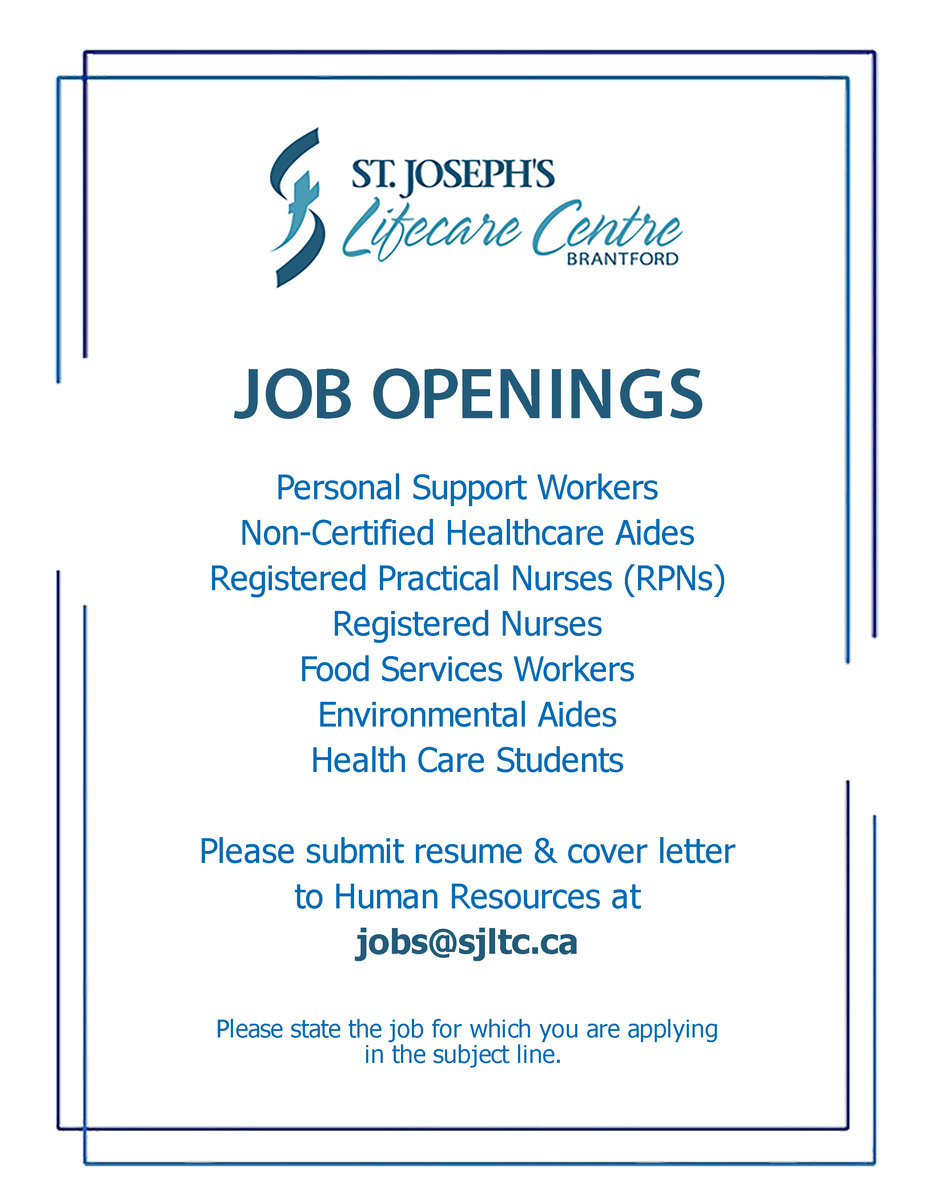 Outbreak at two area nursing homes.

Published on Monday, 6 April, 2020
"Our thoughts are with the employee and their loved ones," said David Wormald, President of St. Joseph's Lifecare Centre Brantford.
"St. Joseph's has strong infection control processes in place that are aligned with Ministry of Health directives and guided by public health authorities. We are working closely with Brant County Health Unit to protect our patients, residents and staff," added Mr. Wormald.
- - - - - - - - - - - - - - - - - - - - - - - - - - - - - - - - -- - - -- - - - - - - - - -- - - -- - - - -
Brantford Expositor article below


The Brant County Health Unit has declared COVID-19 outbreaks at two area nursing homes after an employee at each tested positive for the virus.
Dr. Elizabeth Urbantke, Brant's acting medical officer of health, said Friday that, under new Ministry of Health guidelines, a home is in a "clear outbreak" with one confirmed test from either a staff member or resident.
"Both of the staff members are self-isolating at home and we are providing no further information on their cases," said Urbantke about the workers at St. Joseph's Lifecare in Brantford and Telfer Place in Paris.
She noted the employees went into self-isolation even before their test results were known and that one of the employees had been in contact with a confirmed COVID-19 case.
"No residents have tested positive at either facility but we are waiting for results for tests on staff and every symptomatic resident has to be tested," said Urbantke.
"There's a very low threshold for (requiring) testing on these individuals and even minimum symptoms will be tested."
Urbantke said the measures are taken to protect the vulnerable residents of long-term care homes who are at higher risk of death or serious illness due to COVID-19 due to their age, existing conditions and close living quarters.
"There are outbreak procedures at long-term care homes, even for normal respiratory outbreaks and now those are enhanced."
Urbantke said the homes are using isolation, increased screening and testing and increased use of gloves, masks and gown.
On Thursday, the health unit reported that a 60-year-old woman, who had a pre-existing health problem, is the area's first death from COVID-19.
She asked the media to respect the family's privacy, saying the health unit will comment no further on the case.
"We can't release any more. We have, in general, been releasing that information but with the sensitivity of this recent death we're acting in respect to the family."
When questioned about the fact other health units are releasing more detailed information about cases, including the region of a resident in the community and charts of cases by gender, age and whether they are at home or in hospital, Urbantke said it's due to the low number of cases Brantford-Brant has at this point.
"If we released that information it might make a person identifiable but as the cases increase we will look at releasing more information."
According to the health unit, as of Friday morning, there are 35 confirmed cases of COVID-19 in Brantford and Brant. That's up from 29 cases on Thursday, 17 on Wednesday and four last week.
Six Nations, which has its own public health unit and is not included with the Brantford-Brant statistics, is reporting seven confirmed cases of the virus.
Only one COVID-19 patient is currently at Brantford General Hospital.
Brantford's Kate Loker says that's her husband, Roy Loker, who has been in a medically induced coma for two weeks.
Loker said Friday that her husband has shown signs of improvement but likely will remain in a coma for several weeks.
Meantime, she is in isolation at home, with no symptoms.
Urbantke said she believes a backlog in testing, which delayed results for people, has been addressed.
"I understand we are through it now. The testing was really ramped up since last weekend."
Until this week, citizens have been advised not to wear masks unless they had symptoms of the virus.
But the Center for Disease Control in the U.S. Is expected to change that stance, saying people should cover their faces since they may be asymptomatic in the early days of the virus and homemade masks may at least reduce the chance of infection.
"This has been a challenge for the whole province," said Urbantke. "But, as this evolves and more and more evidence is coming in, we're adjusting recommendations."
She said surgical and N95 masks must be reserved for front-line health-care workers to do their jobs but "wearing something on the face" could help protect people.
"If you cough or sneeze, it could help contain the droplets and that would be helpful. We may see recommendation evolve over the next few weeks."
She said the health unit has a small supply of gloves and masks for some clinical procedures but the bulk of all supplies have gone to the hospital.
Urbantke stressed that people must take the threat of COVID-19 seriously.
"Obey the recommendations for physical distancing, wash your hands and protect the vulnerable population," she said.
"This is going to take everything in our power to defeat this."
SGamble@postmedia.com
@EXPSGamble
Parade shows appreciation for health-care workers

Published on Monday, 6 April, 2020
Parade shows appreciation for health-care workers
A moving tribute to area health-care workers brought cheers, tears and applause in Paris and Brantford on Friday.
"I think people really need to see that we appreciate these frontline medical workers right now," said Brant OPP Const. Ken Johnston, who got the ball rolling on a parade after seeing similar events held for hospitals in other municipalities. "Everybody is trying to find their own way to do something."
He noted that both Brant OPP and Brant firefighters have made photographs of their shoulder flashes in the shape of a heart surrounding a poster of the Willett urgent-care centre in Paris.
"We were chatting about doing something a little bit more to show our appreciation," said Johnston, the detachment's media relations officer. "It's a way we can show our solidarity with emergency responders, and come out to do something together."
Just before noon on Friday, police cruisers, quad-runners, motorcycles, fire trucks and ambulances from Brant OPP, Brantford and Six Nations police, Brantford and Brant fire services and Brant Brantford Paramedics assembled in the empty parking lot at Paris District High School.
From there, the procession travelled onto Grand River Street North and turned onto Capron Street to assemble in front of the Willett's emergency entrance. First-responders got out of their vehicles, applauding and waving to health-care workers, who had gathered outside to watch the show of support.
"It was so surreal," said Lisa Adams, a materials handler at the Willett. "It was very touching to see the community come together in a time like this. They've been great to us."
Adams said the workers are grateful that local businesses are showing their support by giving coffee cards and making other gestures of thanks, including the donation of masks and gloves.
The emergency vehicles next made their way to their next stop, Brantford General Hospital.
More than 100 health-care workers at BGH assembled outside the Terrace Hill Street entrances to await the procession, after staff received e-mails alerting them to the event.
Kelly Taylor, a medical floor unit clerk, said the parade was a great gesture.
"I think we should be doing that for them as well, because they're out there just like we are."
Dr. Damien Medina, who works in the intensive care unit at BGH, said "it is nice to know that people understand what it is we are doing here.
"We appreciate the show of support and we're going to keep doing our job."
The parade made its third and final stop at St. Joseph's Lifecare Centre and the Stedman Community Hospice.
Brantford police Const. Shane Seibert said he also wanted to acknowledge all the personal support workers and other health-care workers at area's various facilities that the Friday's parade could not visit.
bethompson@postmedia.com
@EXPbthompson
Flowers brighten day for health care employees

Published on Monday, 6 April, 2020
Flower deliveries brighten the day of many
A hefty dose of flower power was delivered this week to area retirement and long-term home residents.
John Slaman Greenhouses of Burford and Matt Jones, of Royal LePage Brant Realty, teamed up to deliver hundreds of bouquets in Brantford, Brant County and Woodstock.
"It's really hard time for these people, residents and staff," said Jones, who spent the past week delivering flowers. "They can't have any visitors and they can't get out to enjoy the spring weather when it's nice.
"This is a way to maybe brighten their day and kudos to Slamans. They provide the product and I do the deliveries."
Slaman, like many greenhouses, have a lot of flowers that they can't sell because of the COVID-19 pandemic. Instead of destroying the product, the greenhouse sought to brighten the day of retirement and long-term home residents and staff.
Greenhouse owner Brian Slaman said his daughter, Aimee Ross, is recreational co-ordinator of a long-term care home in Kitchener. Flowers are used as recreational activity for residents to practise hand dexterity and promote social interaction, he noted.
"They also bring some beauty to their lives," said Slaman.
"We thought it was important to get the product to the residents now because of the limited access policies that most locations have in place that restrict family from visiting."
The first shipment of flowers went to Kitchener on Monday.
On Tuesday, greenhouse sales manager Jody Mels began calling local retirement and long-term care homes.
On Wednesday, 1,000 bunches of flowers were delivered to John Noble Home, Brierwood Gardens and St. Joseph's Lifecare Centre in Brantford and Telfer Place and Park Lane Terrace in Paris
Jones has delivered to Tranquility Place, Seasons Brantford and Brantwood Community Services in Brantford and Oxford Gardens, Cedarview Gracious Living and Langdon Retirement Home in Woodstock.
In total, more than 2,500 flower bouquets have been delivered and more deliveries are planned.
The effort was supported by Brant County business owner Mike Haley, of Haleys Elevators, who purchased 100 bouquets at "labour only" cost to donate to the Haldimand Norfolk Health Unit.
Jones said he was especially pleased to deliver more than 200 bouquets to Tranquility Place, where his mother, Sheila, and aunt, Mavis Grey, live.
"I just wanted to do something to help brighten their day," Jones said.
The flowers were a huge hit with both residents and staff.
"Everyone was just so happy," said Christine Middelkoop, Tranquility's general manager. "Those flowers provided a much-needed morale boost to all of the residents and the staff.
"The bouquets were just beautiful."
Jones has another reason to deliver flowers.
His father, Clifford Jones, died March 24 at age 81. He had been living at Hardy Terrace Long Term Care Home in Mount Pleasant. He was a teacher at North Park Collegiate and the owner of Maple Grove Orchards, just north of St. George.
"It has been really tough but this – delivering flowers to residents who have been shut in for so long has really helped," Jones said. "It's something that brings me peace and I know dad would approve."
Vball@postmedia.com
twitter.com/EXPVBall

Happiness & Gratitude: Couple asks wedding guests to give to Hospice

Published on Thursday,12 December, 2019



Three years ago, youth director Betty Steenbeeker and drywall installer Arnold Winter were strangers to one another. Both belonging to Christian Reform churches, they had heard each other's name spoken by mutual church friends, but their paths had never crossed. They were leading separate lives, making a living, being good parents, and coming to grips with the fact that their partners in life had been diagnosed with a terminal illness.
Before they would meet, the two would take a similar but separate journey down the road of caring for and eventually saying good-bye to the person they had hoped to spend the rest of their lives with. Their paths would take them to Stedman Community Hospice, where they would find the care they needed for their dying loved one -- and for themselves, the peace of mind to let go.
Little did they know that soon after the saddest chapter of their lives had been written, an invitation from a friend to fundraise for Stedman Community Hospice would bring them together, and a new story of love and hope would unfold.
On October 4th, 2019 Betty and Arnold were wed, in front of their five children and a large gathering of family and friends at Hope Christian Reformed Church,Brantford. The wedding invitation stated that instead of wedding presents, the couple would prefer that guests make donations to Stedman Community Hospice.
By mid-November, more than $12,350 dollars had been donated to Stedman Community Hospice as a result.
"We're at that stage in our lives where we don't need or want gifts, and for both of us, Stedman Community Hospice was just an incredible part of our journey."
Betty and Arnold met in May of 2018 when their mutual friend, Nancy Hartholt, invited them to be part of her Hike for Hospice team. Nancy's husband, Walt, passed away at the Hospice and she was putting together a team to raise money in his memory. In addition to meeting at a Hospice fundraiser, the couple, in their early 50s, have a deeply personal connection to the Hospice; in July of 2017, Betty's husband Tony spent his final five days there. Several months later, Arnold's wife Johanna came to the Hospice and passed away five weeks later.
"It was an incredible experience," says Arnold.
"First of all, the surprise of finding out, the existence of in-home Hospice care to help Johanna with her pain and medication, that was incredible. And then to find out it was free was amazing, because that is the last thing you want to be dealing with at the time. And then to come to the Hospice itself and not have to worry about Johanna's health or looking after her physical needs, was unbelievable."
Betty shares a similar connection to the Hospice.
"A couple of times, the staff had brought Tony out to the garden in his bed. I remember sitting there thinking how can I be feeling so much peace, sitting here in this beautiful garden when my husband is so ill," says Betty.
"I could not believe that in the chaos of life, and knowing that my husband wasn't coming home again, how peace-filled I felt at the Hospice."
"Being there allowed me to just let go of all those tasks, of caring for him, changing his clothing, trying to keep up with hygiene – it allowed me to just be his wife," she shared.
About three weeks after meeting at Hike for Hospice, Betty and Arnold went out to dinner, and soon began spending more and more time together. Their journeys of losing their spouse after long battles with cancer, and talking about it with each other was a big part of the couple's bonding process.
"Even though everyone's story is unique, we could really understand what the other was going through. It was wonderful to have someone to share your grief with, someone you could be completely open and honest with," says Betty.
"Some things that you wouldn't necessarily share with other people, because they wouldn't fully understand, with each other we had that safe place of being able to share right to the core."
Nancy Hartholt, who has known both Betty and Arnold individually for three decades, and was good friends with Arnold's deceased wife, Johanna, says it couldn't happen to nicer people.
"In the midst of sadness and grief, they found joy in each other. I see it as such a blessing. And I can't think of a better way for the two of them to honour their spouses than by requesting donations to the Hospice. It is such a worthy and needed place in Brantford, and I am thankful for their desire to see donations go there."
Olga Consorti, President and CEO of St. Joseph's Lifecare Foundation, the official fundraising organization for Stedman Community Hospice, noted that designating gifts in honour of a special occasion in lieu of presents, is a wonderful way to support the Hospice. It's also the perfect present for the person who has everything!
In addition to weddings, people often make In Honour Gifts for birthdays, anniversaries, teacher gifts, Mother's and Father's Days, and Christmas. Often donors and employers who, instead of sending gifts to family, friends and employees at Christmastime, donate to the Hospice, and in their Christmas card, they include a note card from the Foundation that lets the person know a donation was made in their name.
For more information on how you can raise funds for the Hospice through a personal fundraiser, or to order In Honour cards, please contact Nancy Billard, the Foundation's Director of Development & Communications at 519-751-7096, ext 2476.